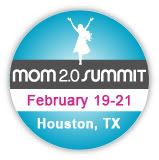 As many of you know, I'm not only a mom, but also a business owner. Another thing you may know — I used to be a 4th grade school teacher.  So, of course, my formal education was receiving a Bachelors in Elementary Education — and not Business. 
  I didn't realize years ago how a different path would lead me to what I am a part of today.  And although I loved teaching school, and I most definitely love being a mom, I love the creative and business side of being an entrepreneur, too.
I have often been asked what kind of advice I would give to a mom wanting to start her own business. While the list is long, there is one thing that I've realized more than ever. That is, to not let what you "don't know" stop you from doing something you know you want to do. 
I didn't know how to open a site, manage a company, produce advertising and marketing campaigns, etc., but you do whatever you can to learn as much as you can.  It's not easy, and at times you wonder if you have chosen the right avenue to take, but it can be very worth it.  I love working with the women I do, creating a place that you love, and learning new things in the process. And when you don't have the answer to everything, you bring on an amazing team of others who do. That's why YCMT and SWAK couldn't be possible without Kris, Lorie, Sherrie, Carla, Rachel, Courtney, Lisa, Michelle, and Shelli (…and Ryan!) That is also why a conference like the Mom 2.0 Summit is something I look forward to.
I just returned from the Mom 2.0 Summit in Houston, Texas where I met some of the most amazing people — not only in business, but in life, too.  They were moms just like you or me. They were women who have all taken what they know, created a successful business, and were sharing their experience and expertise with others. (Sound a little like the authors on YouCanMakeThis?)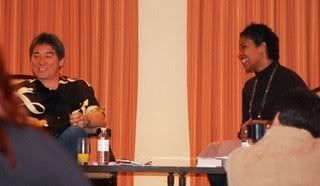 While the majority were women, we learned from many men, too. I loved listening to insights and experience from Guy Kawasaki (think APPLE computers!) and now co-founder of www.Alltop.com. Karen from Chookooloonks did an outstanding job in interviewing Guy and kept us all smiling and laughing.  (And if you haven't seen her photography, you must!)
I sat there feeling very fortunate to learn from Maria Bailey, founder of BSM Media and Mom Talk Radio, just to name a few! She is amazing! 
If you've been a part of the blogging world for any amount of time now, you probably know Lisa Stone, co-founder of Blogher. She and her team has created an  amazing network of women bloggers and has been empowering women through a multitude of projects.
I was thrilled to find out that several speakers would also be women I've gotten to know over the last  few months. It is pretty cool to find out that these women are just as kind, helpful, and sincere in person as they are online. That is certainly true for Barbara Jones, Holly Buchanan, Heather Carson, Gwen Bell, and Gabrielle Blair.
I have a lot more photos to go through, and will post more, but here's one more I think you'll get a kick out of. I know a lot of our audience are fans of Susan and Janice from 5 minutes for Mom. They are often referred to as the "twin bloggers."  Well, we're fans of theirs, too.  So it was fun for Kris and I to meet and interview with them. The twin connection made our conversation one that could have lasted all weekend.