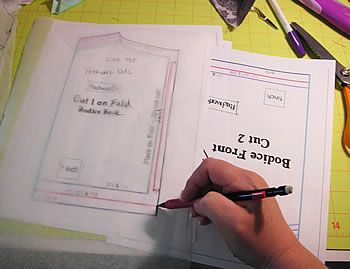 Swedish Tracing Paper? Seriously?
I admit I often like to do things the hard way. A little sweat never hurt anyone, and well, if you do it the hard way, you learn it the right way….right? I feel this way sometimes about sewing notions because there are a dizzying number of products out there, and you can't own every one of them. Nevertheless, I've been proven wrong enough times you'd think I would know better. One such experience happened to me recently when I went to the Rocky Mountain Sewing Exposition and happened upon a booth selling Swedish Tracing Paper.
Swedish Tracing paper is a soft, see-through, non-woven material used to trace pattern pieces. Huh. I was skeptical. Why did I need to trace pattern pieces and why would I care if the tracing could be sewn? Isn't that what a muslin is for? I didn't have much time, and the product wasn't very expensive, and I know you gals like to hear about all the best notions—so I bought it and went on my way.
A few weeks later, I was sewing for my girls, who happen to fall under the same pattern size range. I was cutting out the pieces from the large tissue, realizing there were some intricacies to the pattern that would be hard to get onto the fabric without cutting the pattern to size, thus needing two patterns to get both sizes. I reached for my tracing wheel and carbon, and then stopped. I pulled out the Swedish Tracing Paper and placed it over the pattern.
My favorite marking tool of choice—the common pencil—came out and I began tracing on the smooth, fabric–like paper. I could easily see the lines, marks, and words on the pattern underneath. Tracing one pattern piece took about 3 minutes, and at the end, I had an exact copy of the size I needed. OK—I was pretty happy, but would it last?
I cut out the pattern pieces from the tracing paper. Ah-it's far easier to cut out the tracing paper than the tissue. No tears, no wrinkles, and more stability. Bravo! I took the tracing paper pattern to my daughter and began to "fit it" to her to be certain the size I chose would fit. The tracing paper molds to the body shape and stays in place. I noticed the length was too short, so I added a piece to the bottom and sewed the pattern together. No tape to stick to other pattern pieces or turn yellow and gummy over time. Brilliant!
Next, I placed the tracing paper pattern on the fabric. Oh my gosh! The texture of the tracing paper was keeping it in place on the fabric. I didn't even have to pin it, though I did weigh it down for cutting. What an improvement over slippery tissue paper that's impossible to keep in one place! I cut out the fabric—perfection. No weird cutting oddities created by sliding tissue.
Need I say that I'm hooked on Swedish Tracing Paper? This is one of those notions that truly makes the job easier. It seems like I had to take an extra step in the sewing process, but it relieved so many of the problems I find with traditional patterns, it was well worth the few minutes it took to trace the pattern.
Here are a few thoughts I had while working with it: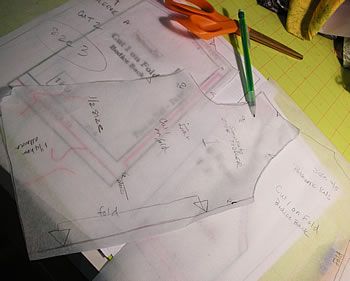 - Be sure to put all of the same info on the tracing paper that's on the pattern, including the pattern manufacturer, number, grainline, markings, piece number, and add the size you're tracing.
- Keep the tracing paper pieces along with the pattern in a plastic bag. Even if you don't use them again, if you give your patterns to another seamstress later, she may have some use for the tracings.
- Swedish Tracing Paper lends itself well to rotary cutting since it grabs the fabric and doesn't move easily. If you've tried using a rotary cutter for clothing patterns and found it difficult, try again with the tracing paper. You'll love it!
- You can find Swedish Tracing Paper on the Internet, but it might be difficult to find locally. You can try a lightweight non-woven, non-fusible interfacing or stabilizer instead to see if that works as well, but the texture would require some smoothness to take the markings easily and it would be hard to sew.
- If you use pen to trace the pattern, know that it may bleed and obscure the pattern underneath. Chalk would likely rub off easily. A plain pencil works just great!
- Since you can sew on the paper and it does flex, it makes a great alternative to a muslin, though it may be a bit less drapeable.
- Definitely use this product on any pattern you foresee using more than once. It will help to simplify your cutting process!
Don't do everything the hard way when there are great notions out there that will help you do the job more easily! Stay tuned to You Can Sew This and we'll keep you posted on the best notions on the market!
Where to find Swedish Tracing Paper? Readily available on the Web with a quick search on Google!