Don't you love the look of capelets. They're fashionable and just the right size for the cooler days ahead. It's a great transition piece into Spring and can easily be made to complement any outfit! Yesterday I had the opportunity to showcase 4 models — all wearing capelets and outfits that you can make from www.YouCanMakeThis.com. Here's a look at the video!

If you are looking for a capelet that covers the shoulders and is a bit more casual, you may be interested in downloading the free pattern here. They are so easy to make as you can tell from the video above. Plus, you can make them in any size — child to adult!
The red and white polka-dot, as well as the deep brown colored capelets are both free instructions on the site. The gorgeous red one pictured below? Well, I'll write about that next!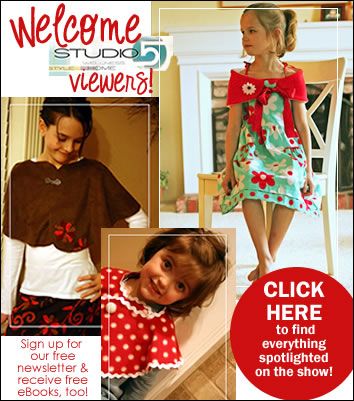 The "tween look" was completed with the help of the The Katelyn Tween/Teen Skirt.
And how cute is this fuzzy capelet? Her outfit was completed with the Cuffed! Technique on the pants, as well as the Wrap Top/Dress.  Since the fuzzy stuff…well…has fuzzy flurries all over the place when cutting, this particular one was lined with a coordinating fabric from the cuffs. Simply cut 2 of the design, sew right sides together (don't forget to leave an opening for turning!) and wa-la…you've got a lined capelet!  Easy!!
If your fabric does not fray (ex: fleece) then there is no need for a lining. It looks beautiful as is, just like the brown capelet above.
OK, so now for one of my very favorite "looks".  This one was made with the Easy and Elegant Capelet found on the site.  It has a very sleek, sophisticated design but is also very easy to do!
Kudos to Jen and Kate for creating a beautiful piece!  And let me tell you…the little girl who modeled this set in the segment absolutely LOVED it! I think she felt like a little princess. She was grinning from ear to ear throughout the show! Too cute.
And don't you just love the Picnic Dress they used to complete the set? This is also an easy dress to create and would look darling for Spring, Easter and Summer.  Stunning!
And finally, if you would love to crochet a capelet, we have child and adult crochet capelet patterns that are gorgeous!