Kris appeared on NBC/KSL's Studio 5 this morning! She talked about something we all need — A "Stay-cation!"
Yes, just as the word sounds, it's like a vacation, but this time you are staying home! You'll save money, time, and create a memorable experience for your children.  (And as Kris put it, the the kids thought that this idea was the greatest thing since peanut butter on waffles!)
Kris is the designer behind JesseKateDesigns. We're also thrilled to have her be a part of our YCMT, SWAK, and YCQT Team! Her fun blog also documents simple ideas for home and family.
If you were not able to view the show live, here is the clip below! Then scroll to the bottom of this post where you can download her PDF patterns she created for the stay-cation!
In Kris' own words, here are the highlights of the event!

Before the children go to bed, they come across this on their bed: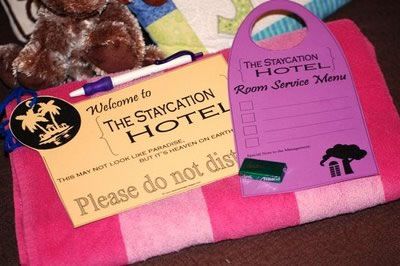 After reading the papers, one of my daughters just kept laughing. And laughing. And laughing. She even told me that she would have a hard time sleeping that night because she couldn't WAIT till morning when she could have breakfast in bed!
They each then took a few minutes to fill out their "room service" door hangers. I told them that they could write whatever they wanted, but they wouldn't know FOR SURE what they were going to receive until the morning when one of the boxes would be checked by "management." Oh, the anticipation!
It was so fun to walk down the hallway and read each of their menus hanging on the doors.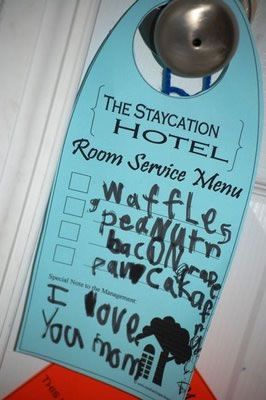 My daughter asked me what it meant by "Special Note to the Management." I said, "Well, you'll have to decide. I suppose if you're really nice to the management, then extra care will be given in your service!" I'm thinking she "caught my drift" right away.
They were also each given a "Please do not disturb" sign to hang on their door anytime they'd like today. I had to be sure to include the word "please" in the statement. The contrary just seems so…harsh. LOL I figured that sometimes we all need a little peace and quiet.
So breakfast will be served in each of their rooms. Be sure to tell them to "not get used to it!" LOL!  At that time I'll also bring in the day's itinerary. Swimming at the indoor pool at the local rec center will be at the top of the list. Afterall, hotels have swimming pools…just this one sure doesn't!
I made these printables for you to download for free! Here are the links!
 http://www.youcanmakethis.net/promo/KSL/do-not-disturb.pdf
http://www.youcanmakethis.net/promo/KSL/staycation-hotel-room-service.pdf
http://www.youcanmakethis.net/promo/KSL/todays-intinerary-2.pdf
Have fun…and don't forget the mint on the pillow!