Tonight's "Looking Back" post has a bit of a twist to it! We're actually wanting YOU to look back at what you've made using any of the products listed on our websites, take a photo, and submit those photos to the "I Made This!" section!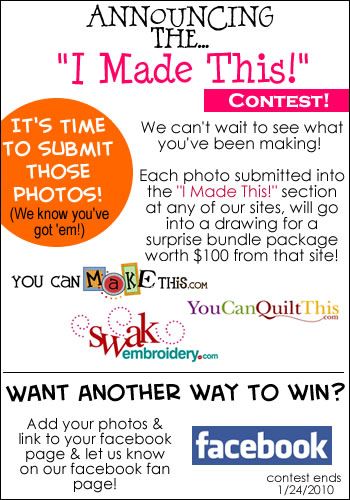 We are so excited to see what you've been making!
From now until January 24, 2010, submit your photos to the "I Made This" section at any of our websites: www.YouCanMakeThis.com, www.SWAKembroidery.com, and/or www.YouCanQuiltThis.com!
We know you were especially busy the last few months so you must have photos, right?
If you used any of the ebooks or designs from any of our sites, we want to all be inspired by your work! 
So start clickin' and you could win one of four prize packages worth $100 each! A prize bundle from each of the sites will be given. And where is the 4th one coming from? Well, if you are on Facebook, we'd love to see your photos posted over there, too! Simply add your photos there (they can be in our "I Made This!" sections as well), and let us know.
It's easy to submit photos and just takes a few seconds of your time.
The "TAB" for the "I Made This" sections of each site is found along the top of each website. Click there and you're good to go!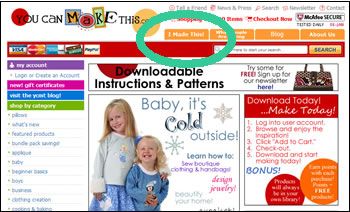 Oh, and if you'd like to become a FAN of ours on FACEBOOK, simply click here.
I'm so excited! Let's see those photos start rolling in!