It's a wonderful time of year for so many reasons.  It's also a perfect time to use our time and out talents to help others. 
This is our 3rd year of teaming up with the Toys for Tots Foundation in order to provide doll clothing for all of the dolls donated each year.
I invite you to watch this short video so you can see how easy it is to make a dolly "wrap" skirt. It's reversible, too! Make them for your own children and make them for others, as well. Teach your children how to make them. Teach your friends how to make them. Everyone is going to love not only the "making", but the "giving" as well.
There are 3 different patterns to choose from. Make any or all of them! If you donate them, be sure to download the "submission" form also found on these pages below. The 2008 form is the same as the 2009 form.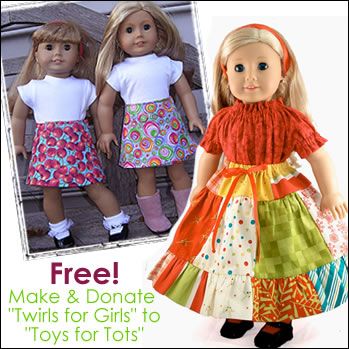 Find the dolly patchwork twirl here.
Find the dolly wrap skirt here.
Find the dolly pettiskirt here.
We'd love to get the word out so that more of these are donated! You can use any of our icons below to place this post on Twitter, Facebook, etc.  Feel free to use the video and links on your blogs as well.