These sucker wrappers will be a total hit at your next party! Very quick and easy to stitch, NO STABILIZER needed, and some felt! There are 3 different versions on SWAK. The 4×4 hoop size will allow you to make 1 wrapper, the 5×7 hoop size will make 3 wrappers at once, and the 6×10 hoop size will allow you to crank out 4 sucker wrappers all at the same time! Let me show you how easy this project can be!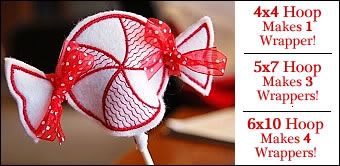 Even though there are 3 videos here, no worries! It's really not a long project at all. We just wanted to keep it to short segments for easier viewing! Enjoy watching how easy an "in-the-hoop" project really can be!
Interested in what the "Twas the Night Before Christmas" Dinner is all about? Check back on the blog this week! We'll post another video!