I love to make pillow projects! Why? Probably because they are so fast and easy to do — plus it dresses up a room in no time at all!   Personalized name pillows are my absolute favorite, but I also love creating fun and whimsical ones for the holidays, too.
I'm going to show you the easiest way to create a pillow from any design. The pillows shown here were done by using applique designs from www.YouCanMakeThis.com and www.SWAKembroidery.com, but whichever design you choose for the center, the final steps for making it into a cute pillow are the same. 
I love to use these small pillows on a bench, a shelf next to a photograph, or even stuff them into my Christmas tree as if they were ornaments! It's also the perfect little gift to say, "I'm thinking of you."
Materials Needed:
Design of your choosing
Rick-Rack (optional)
Buttons for embellishing (optional)
Four, 2.5″ strips of fabric (borders)
Polyfil stuffing
Back panel of fabric
 
 Step 1:  After you have appliqued or hand-embroidered your design, cut your background fabric 1″ beyond all sides of the finished design.
Step 2: (optional)  One side at a time, add rick-rack along the edge of pillow panel. Sew rick-rack onto panel with a straight stitch.
Step 3:  Now is the time to embellish with buttons or ribbon if you'd like.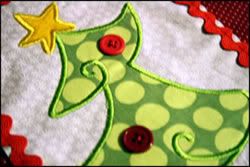 Step 4: Take one of your 2.5″ strips and place "right sides together" (RST) along the top of the tree. Using a 1/4″ seam, sew the first border strip to the top of the pillow.  Press seam with iron.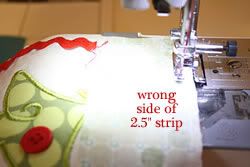 Step 5:  Repeat previous step for the right side of the pillow.  Sew and press.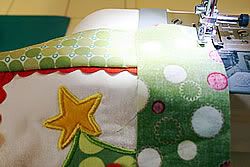 Step 6:  Continue adding strips until all 4 sides have a sewn border.  The diagram below will help you better visualize what is happening.

Step 7: Measure the length and width of your new pillow top.  Cut a back panel of fabric the same length and width.  Right sides together, sew a 1/4″ seam allowance around all 4 sides of the pillow.  Be sure to leave an opening so that you can turn the pillow right side out.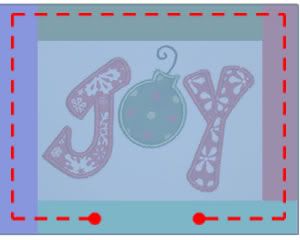 Step 8:  Turn right side out. Stuff pillow with batting and close with a needle and thread. Now how easy was that?!