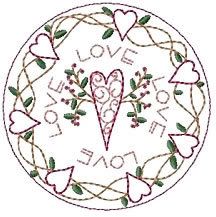 Sometimes, we who embroider, might look at a design and think to ourselves, "Oh, that is so cute, but…" and then fill in the blank with all the "whys" as to why this design we love may not work. I'd like to use this "Hearts of Love" in-the-hoop candlemat as an example in illustrating my point and to help us all think outside of the box when it comes to choosing our projects.
At first glance, one might look at this design and think, "Oh! That is so cute, but Valentine's Day was just last week! I'll have to remember that next time around."
While it may be true that this would be an ad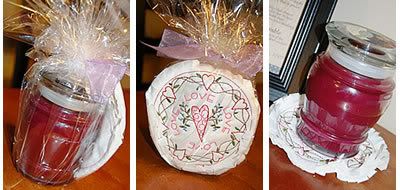 orable way to decorate for Valentine's, just think about the other times during the year where this could make the perfect project. How about as a wedding gift? What about making one for yourself and keeping it all year long in your home? What about stitching this candlemat out and then giving it as a housewarming gift to your new neighbor accompanied with a scented candle of your choice?
Another thought that may creep into your mind could be, "Oh, that is so cute, but I don't have a clue how to do an in-the-hoop project! How intimidating!"  Yes, in-the-hoop projects may require a little more time to put together, but don't let the name scare you away from trying something new. All of our in-the-hoop projects come with step-by-step directions to help guide you through the process. You may just amaze yourself and see how easy it really is!
Another thought that may enter your mind is, "Oh, that is so cute, but I don't see a need for a candlemat. I wish that design was just sold as a normal single."  Good news! Many in-the-hoop projects can be stitched on their very own, without any further methods of making it into a project! Here are some examples of a totebag and a tea towel, both with using this same, original design.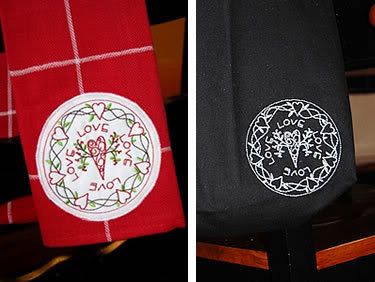 And finally, don't let color schemes hold you back. As you can see, I used all white thread on top of black to add a stunning look to my tote. Try substituting the red color of the heart with blues, tans, yellows, etc! You'll soon find you have a whole new look!
Learning to "retrain" our minds when we look at designs will help us see that the possibilities are endless!