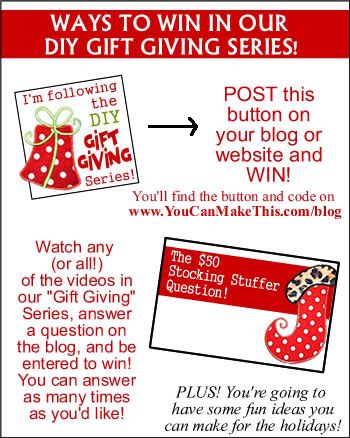 With the holidays just around the corner, we thought it would be fun to put together a series of gift giving ideas you can make!
You'll learn some fun new techniques, tips, and ideas not only for the people on your list, but also creative ways to decorate your home!
Want to make this even more fun? We are giving away hundreds of dollars in gift certificates just for you watching the videos and answering a question on the blog!
That's right — if you see a picture of a stocking, that means you can be entered to win one of MANY gift certificates just for watching the accompanying video and answering the specific question on the blog! We promise to make this easy-peasy! 
Want another way to be entered to win? Let your friends know about the gift giving series, too! Post the Gift Giving button on your blog or website, and you'll also be entered to win a $100 prize package!
New videos and how-to's are continually being added so keep checking back! It's our hope that we can help you create some very special handmade gifts this year!
Below is the button you can post on your blog or website. You can link it back to this blog so people can find all of the ideas and videos.  Let us know in the comments section where you posted and we'll be sure to put you in the drawing!

OH! One more thing – If you have a blog and are looking for content during the month of December, feel free to grab any of our Gift Giving Video Series off of You-Tube or any of our recent NBC/KSL TV segments to share with your readers! Then link back to YouCanMakeThis.com or YouCanMakeThis.com/blog. It's easy to embed video and your audience will love learning new things, too!