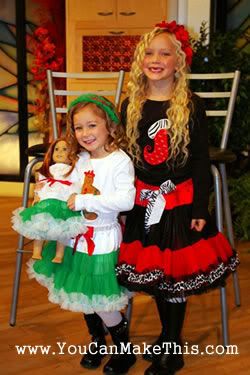 We were excited to be invited back to KSL's Studio5 television program this past week. Knowing the popularity of a pettiskirt, they asked if we'd show people how to make one! So we  put our crafty heads together and came up with this tutorial filled with tricks and tips. Led by the amazing talent of Carla C,  the can-do attitude of Sherrie, and an awesome producer and team at Studio5, a Pettiskirt segment was created! 
We knew you would like to see it, too! So here it is! Sherrie, our assistant site manager at YouCanMakeThis.com, shined in her how-to demonstration! The segment is a very basic overview of how our version of the Pettiskirt is created, but detailed, step-by-step photo/diagram Pettiskirt instructions are available on our site. Plus, it's free!
Here's another thing we love about this skirt! We've also included a DOLLY version! We are now entering our 3rd year of our annual "Twirls for Girls" campaign for the "Toys for Tots" program.   Each year we create a new twirl skirt pattern made just for dolly so that you can make and donate them to Toys for Tots. These dolly skirt patterns are free. Our first year was a patchwork twirl skirt. Our second year debuted a dolly wrap skirt. So it is only fitting that our 3rd year would showcase a dolly Pettiskirt!
Happy holidays everyone! Enjoy making Pettiskirts for girls…and their dollies, too!
Find the free "How to Make a Pettiskirt" instructions here.
Find the "Twirls for Girls" patterns here.
Sign up for any of our newsletters here. Receive free bundles of e-patterns just for signing up!
========================
Your eye may have caught those adorable t-shirts that matched up with the Pettiskirts! Now you can make those, too!
To find the paper applique pattern (to be used with a regular sewing machine) for the stocking, click here.
To find the machine embroidery design for the gingerbread girl, visit our sister site, SWAKembroidery.com. Click here.