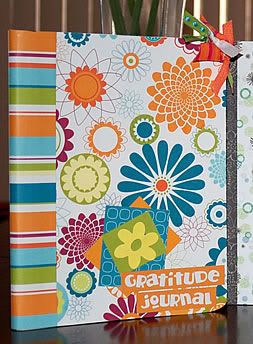 Each month I feel fortunate enough to be able to get together with good friends as part of a monthly quilt group.  I absolutely love that day because we eat, laugh, sew, eat some more, laugh, sew, eat…you get the picture.
  But we also talk about fun little ideas, too. Ideas that may seem simple, but hey, I like simple. And I like meaningful. 
This idea  is just that.  It came from my good friend Karlee. As we were chatting about the latest and greatest fabrics, or what the kids were doing at preschool, she told me that she needed to finish up some gratitude journals she was giving to friends. I was immediately intrigued. Gratitude journals? Tell me more! I knew the concept of course, but how she put these together was also fun to learn about.  Because remember – I like simple…and I like easy…and I like creating something meaningful to keep or to give to others. This is one such idea.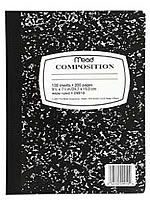 Karlee started with a Mead Composition book. You know the ones — they're usually black and white, have no spiral binding, and are used for….well, composition, of course.
  They can also be purchased for around $1-2, but if you stock up at the beginning of a new school year, you can round them up for about a quarter! Come September, I'm stocking up!
Then with a gluestick (or spray adhesive) and scrapbook paper, she covered the notebook, including the bound edge. I love how she used one pattern paper for the book, and another paper for the binding.
Next, it was time to embellish! Ribbons, flowers, buttons, stickers — all can be used for embellishing. I think that's one of the things I like so much about this project. It would be so fun to really personalize it for the recipient. And I know these recipients will appreciate such a thoughtful gift given to them – especially at this Thanksgiving time when it is good to be reminded of the many wonderful things in our lives. In fact, I'm almost certain that one of the first things written in that new journal would be the fact that it was created by such a good and caring friend.
Here's another photo of the journals. Think of the possibilities with this one!
And being the sweet mom she is, Karlee didn't want to leave out her own daughters. So with a spiral notebook, she created these. Won't the girls just love them?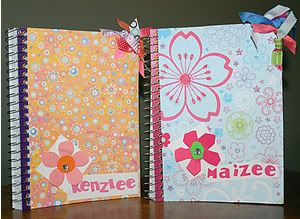 They're really great for all ages.  Karlee's 17-year old sister made a bunch of them this past summer for her peers. She passed them out at a Girl's Camp and they were a hit. 
Think journals, recipes, a place to record funny things the kids say, etc. etc. Think Thanksgiving, Christmas, teacher gifts, and more.  There are endless ways to both use these decorated books and ways to embellish them.  Thank you Karlee for a great idea. 
Have fun everyone!