We recently had the opportunity to appear on KSL's Studio 5 to showcase Halloween costumes you can make!  You can view it here if you haven't seen it yet.  Well, we didn't want to leave out those sweet pets of ours! So we enlisted the help of Suzanne from Suzanne's Perfect Treasures to create the most darling ladybug costume for this little Yorkie! Isn't it just "tutu" cute?
  The walking vest/tutu was made with Suzanne's pattern, The Ultimate Walking Vest.  Think bumblebees, ladybugs, and more with this kind of costume!
But what about those cute antennaes? I asked Suzanne if she'd put together a tutorial for us — and she did! So our guest contributor today is Suzanne – author of all things cute for your pets!
===============================
SUPPLIES:
1. Felt scrap
2. Chenille stem (pipe cleaner)
3. 2 poms
4. oval pattern
5. ribbon or elastic
6. scissors
7. glue gun
Step 1:
Cut an oval from a piece of paper, a suitable width for your pet. I made mine 4" X 2.5". Using this pattern, trace the oval on the scrap of felt. Cut 2 of the ovals.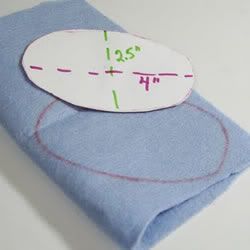 Step 2:
Cut a 6" (or longer) length of the chenille stem and bend into a square "U" shape.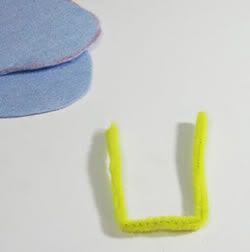 Step 3:
On the underside of one oval mark the two points where the chenille "posts" will be positioned. Cut small slits at these points. Run a small bead of glue along the line between the posts on the underside and pull the chenille posts through to the other side securing in place with the line of glue.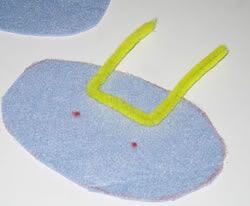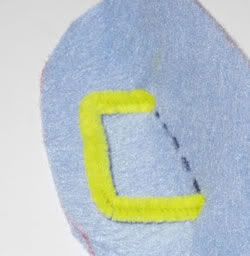 Step 4:
Using small beads of glue, position the ribbon as pictured.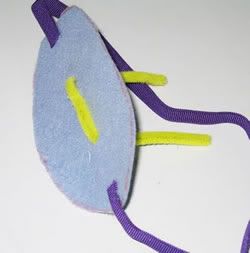 Step 5:
Run a thin bead of glue along the edge of the underside of the oval and attach the remaining piece of felt, covering the bottom of the chenille stem and ends of the ribbon.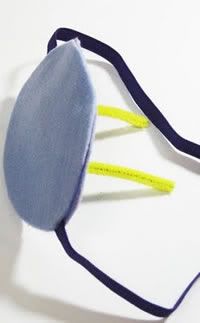 Step 6:
Add a tiny bead of glue and position a pom on the end of one "post", pressing firmly until the glue sets. Repeat for other "post".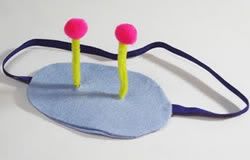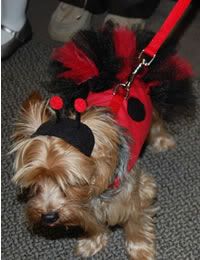 ====================================
Suzanne is the owner of "Suzanne's Perfect Treasures." You can find her e-patterns at YouCanMakeThis.com.