It's time for the next steps in our "Make-It-Up-As-You-Go-Along-Quilt!" Are you ready for part 10? This is the final step to making the quilt top! Woohooo!! Can you believe it?  Oh, it has been fun watching your progress on your quilts. Thanks for being a part of this!  If you're just jumping in, you can find ALL of the earlier steps on our former blog. Hurry and catch up — we'd love you to join!
So PART 10 is very easy and finishes off the quilt top nicely.  I'm going to use 2 borders — the first comes from one fabric choice. The 2nd border comes from multiple fabrics. It's up to you and whatever you choose to do here will look great, I'm sure!
Step 1:  Measure down the center of your quilt.  Mine ended up being 23.5″ length.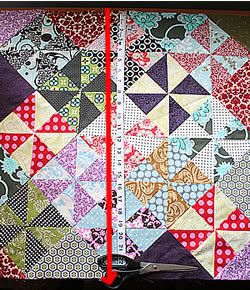 Step 2: Cut 2 strips of fabric: 2″ x 23.5″ (or the length of your quilt top.)  This border width of 2″ was a personal preference, but you can make yours any width you'd like.  After sewing, it will be a 1.5″ border which takes into account the 1/4″ seams.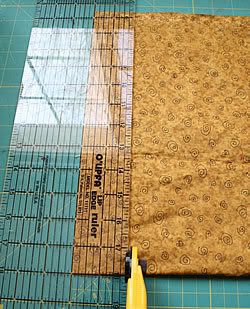 Step 3: Fold one strip in half and mark with a pin. Repeat for 2nd strip.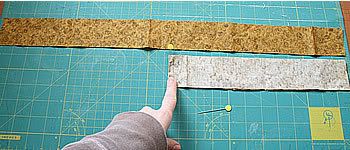 Step 4: Match your strip's mid-point pin to the mid-point on one side of your quilt top. Pin right sides together. Then pin each end of your strip and continue pinning the strip. (Can you tell that I think you can never use enough pins! They are your friend!
)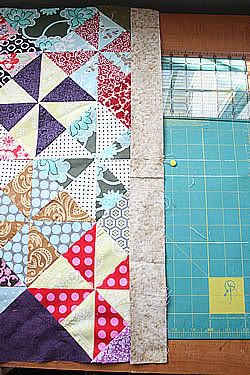 Step 5:  With a 1/4″ seam allowance, sew each strip to the 2 sides of the quilt top.
Step 6: Press seams towards the outside of the quilt.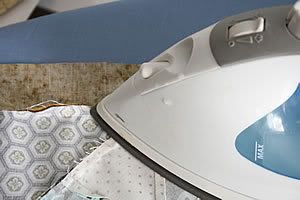 Step 7:  Now measure across the center width of your quilt top. Mine measured 26.5″.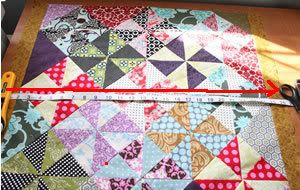 Step 8:  Cut 2 strips of fabric: 2″ x 26.5″ (or the width of your quilt top.) 
Step 9:  Repeat steps 3-6 to sew the next 2 borders to the top and bottom of the quilt.  Press.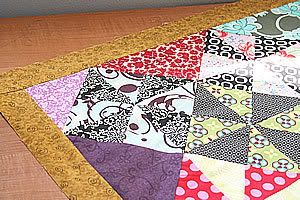 Step 10: Repeat steps 1-9 for the 2nd border.  Instead of cutting 2″ widths like I did on the first border, I cut them 3.5″ inch widths. You can choose any width you'd like.  You can do this out of one fabric or you can use scrap fabric like I did to create a pieced border. I simply sewed various lengths of fabric together to create one long strip and then cut them in the lengths I needed for the borders.
You're done with your quilt top! I could not wait to see what it will soon look like on my bench. So here's a couple of photos! (I had to laugh when I noticed the VACUUM MACHINE standing there right next to my bench…hmmm…must be a sign that I *should* be cleaning instead of sewing….Nah….)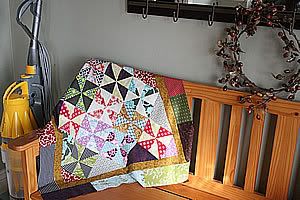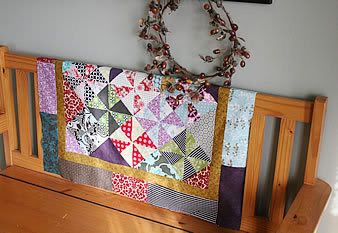 -Kim