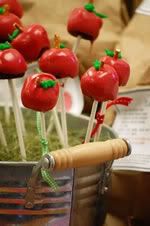 Kris from JesseKate Designs is our guest contributor today! She's also one of our core team members at YCMT and SWAK. She is going to share some fun ideas for a teacher luncheon we recently put on. So take it away Kris!
==================================
Last week Kim and I put on a teacher luncheon at our local elementary school on the day of parent-teacher conferences. This is a tradition each year with the PTA. We decided to go with an apple theme!
The serving table was filled with crockpots of hot soups, fresh rolls, and salads. But the real fun part for us was putting together a "take-home" treat of apple crisp mix and apple pops!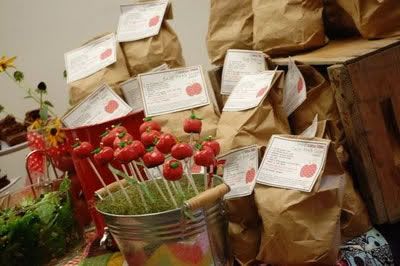 Because of my abundance of apples in my yard, I was happy to put together sacks of Macintosh apples to go along with a crumble mixture for each of them to take home and make apple crisp with their families.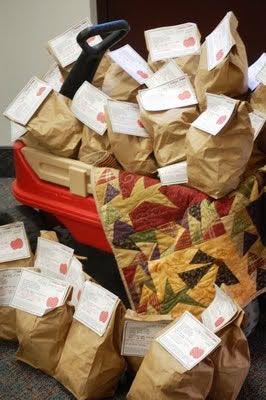 Sounds yummy? Here's the recipe!
EASY Apple Crisp
1/2 cup all-purpose flour
3/4 cup brown sugar
3/4 tsp cinnamon
3/4 tsp nutmeg
1/2 cup whole oats
4 medium sized apples
(All of the above ingredients we mixed together in a bag. Then we added the note to tell them to add 1/3 cup softened butter to the above ingredients!)
Preheat oven to 375. Slice apples and put in small, greased baking dish. Sprinkle mixture over top. Bake for 30 minutes!
Then we thought it would be fun to make these apple pops! Such a great conversation piece…change the color, and these would make such cute pumpkins, too! We got the idea from www.Bakerella.com. She has SO MANY FUN ways to use the same basic instructions to make all sorts of cake balls. It does take a bit of time, but it really is very, very easy to do.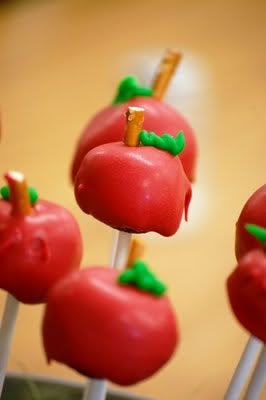 Of course a coordinating apple applique completes the basket of rolls…
And finally, you know me and vases with other items inside besides water…. LOL. It's a quirky thing I like to do! And we topped them with my very "sad-it's-past-summer" black-eyed-susans!
Overall, it was a very enjoyable fall afternoon lunch. I love finding ways to show teachers how much we appreciate them, don't you?
=================================
Kris is the owner of "JesseKate Designs". You can find her machine-embroidery designs at SWAKembroidery.com.  You can find her paper-pattern applique and sewing designs at YouCanMakeThis.com.