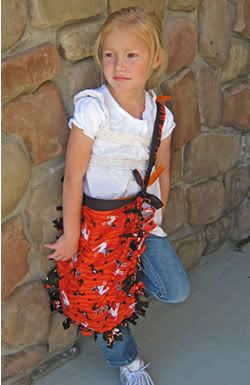 Shelli from Needle in a Haystack Designs is our guest contributor today! She is going to show you how to make a knotted handkerchief bag which is fun, easy, and can be made for about 2 bucks! So take it away Shelli!
===========================
I'm so excited to share how to make this cute and funky little bag that my young friend, Hannah, taught me how to make.  It whips up in about 30 minutes or less, and costs about $2.00.  Yep!  2 bucks!  You can't beat that!  It's the perfect size for carrying library books, piano books, and with a Halloween print, perfect for Trick-or-Treating!  With the ease of this project, it's perfect for tweens and teens to complete on their own or with a little help.  Thanks, so much, Hannah for a great idea!
 To make your own Knotted Handkerchief Bag, you need:
*2 coordinating handkerchiefs (I found a whole bunch at Wal-Mart for $1, including the fun Halloween print that you'll see in the photos!)
*Scissors
*Pins
*Optional:  marking ruler and water soluble pencil
1.  First, press the handkerchiefs with a hot iron, then layer them one on top of the other and pin together in several spots near the center.  Keep these pins in place until your project is finished to prevent the handkerchiefs from slipping apart.
2.  With your scissors, cut through both layers and trim away the outside borders (about 1″) on three sides only.  The side with the remaining border will be the top of the bag.  Set aside the trimmed borders for use later.
Your handkerchiefs will look something like this after cutting the borders away on three sides.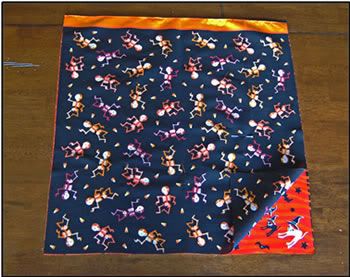 3.

 

With the marking ruler and pencil, measure in 3.5″ from the three cut edges and mark a line (the water soluble pencil rubs off with a little moisture or even just pressure).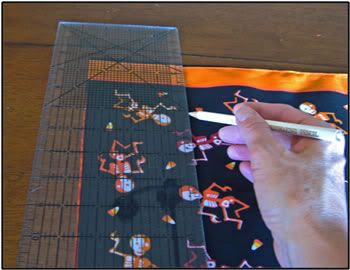 4.  Starting near the top of your bag along one side, make several perpendicular cuts from the edge to the marked line about 1″ to 1 1/2″ apart to create several fringes.  You do not need to measure these distances… eyeballing them will work just great!
As you cut fringes along the three edges, the corners will simply be cut away.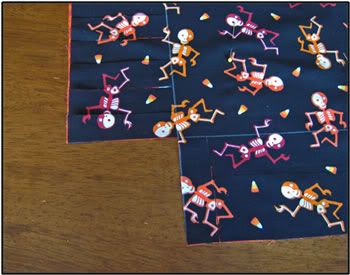 5.  When you have cut fringes on all three sides, you're now ready to knot them.  For now, skip the fringes at the top of the bag, and begin on the next.  Simply tie knots in each layered pair of fringes all around the three edges. 
When you have tied the knots around the three edges, your bag will look something like this. 
6.  You are now going to create the bag handles with four of the edge strips that were cut off earlier.  Tie them together in pairs to create two handles.  Now tie each end to one of the fringes that were not knotted at the top of the bag.
With that, your bag is now complete!  Wasn't that easy, and so much fun to create something cute so quickly?  I just know your tweens and teens, and even your little ones will love it!
A side note:  My girlies and I experimented with making slightly smaller bags as well.  To do this, simply trim more of the handkerchief from the three sides before tying the knots.   Have fun!
Here are a few more photos for inspiration!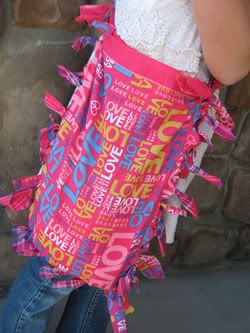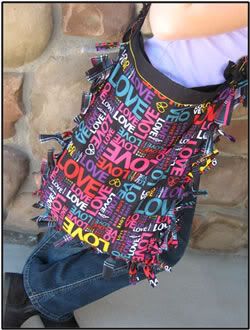 Shelli is the owner of "Needle in a Haystack Designs". You can find her hand-embroidery designs at YouCanMakeThis.com and YouCanQuiltThis.com.  You can find her machine embroidery designs at SWAKembroidery.com.