Every year I think that I'm going to get a jump-start on all of my holiday projects — the gifts, the home decor, the party planning, you name it.  And every year goes by and I wait until the last minute before getting everything done. Well, not this year. No-siree – I'm determined to get a jump-start.  So I'm taking one niece and nephew at a time to begin with.  I just finished my 3 1/2 year old niece's Mini-Kimmy Doll and Mini-Kimmy Quilt. Phew! Checkity-check that one off my list! 
But then Cricut came out with a new cartridge that I was able to review — "From My Kitchen" — and I knew that would make a fun "quiet book" type of project that I could make, as well.  (So she may be a little more spoiled this year…)
I'm still working on the final project, but here are some pictures from today.  Once I have all of the pages done, I'll laminate them, bind it, and then create a pocket on the back page for all of the little pieces that will go throughout the book.
Here is the cover. I decided to call it "Rachel's Kitchen."
I love the retro-look of the di-cuts from this cartridge!
Here is a page where she'll be able to put "cookies" in the oven. (cookies = M&M's!!)  I also have a place for her to put the M&M's on the gingerbread's body.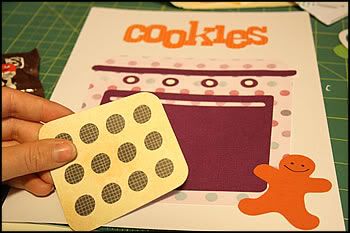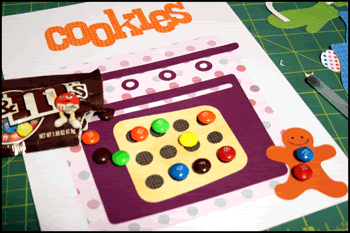 I thought a page where she could move "oven mitts" into pattern sentences would be helpful.  Each of these will be laminated and have Velcro on the backs so they can be moved around.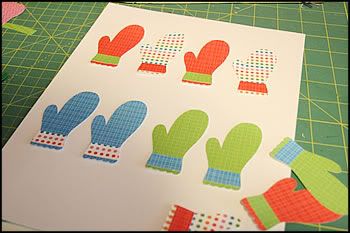 This is a good age to learn her phone number.  So I cut each number out separately and will add the Velcro to the back.  Then she can put the numbers in the right order. Don't you love the phone?
Now this one may not be something you would normally see in a kitchen, but I couldn't resist!  It actually started out as a di-cut of a coffee pot.  I saw the bottom half of that shape and thought, "hmmm….that might make a good fish bowl!"
  So I cut off the top of it, and wa-la! She now has a place to practice her counting skills.  She can place Goldfish crackers, Swedish fish, or even paper fish into the bowl.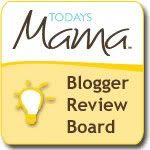 Thank you to Cricut and Today's Mama for giving me the opportunity to try something new. Cricut has 4 new catridges out now, including this "From the Kitchen" one.  Cricut is also running another cool contest called "The Great Gypsy Escape".  They're giving away over 200 Gypsies, 20 travel packages and a "Cricut Swarm" in one of five fabulous locations. Purchase one of four new Cricut cartridges for a chance to win. Look for winning cards in the new Every Day Paper Dolls, From My Kitchen, Sweethearts or Winter Woodland cartridges. Learn more here.