…head on over to our newest sister site, www.YouCanQuiltThis.com! Not only will you find patterns from 30 different author/designers, but you also find quilting tutorials, inspiration, great articles, and more.  I love to quilt and find that it is something I do when I want to relax and make something special for someone or even for my home.
If you tried our paper-piecing tutorial, then you may be ready for the next step by creating some finished projects with this method. You may look at a photo and think "No way! That looks way too hard!" but I promise you it is one of the easiest things you could do. This pillow can be made in one evening (…an uninterrupted block of time is helpful!)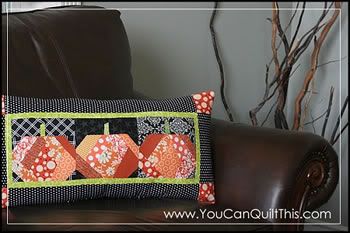 Here's an up-close photo. What a great way to use those fabric scraps!
Here's another fun "paper-piece" pattern now available at YCQT!
We are also finishing up the last month of our FREE "block of the month" series! The 4th block and finishing instructions are now available!  You can do this by hand, or if you prefer machine embroidery, we have the final block ready for you at our sister site, www.SWAKembroidery.com.
And if you love the look of this table runner, you'll love other designs created by Shelli – one of our YCMT team members and owner of Needle in a Haystack designs. Come and see what else she has to offer!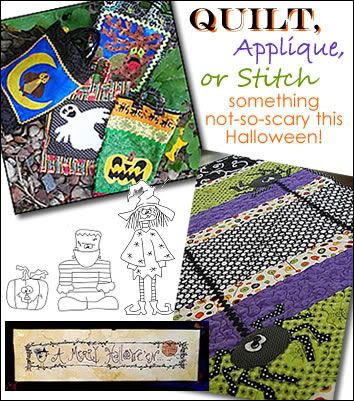 So try something new! Come and take a look at www.YouCanQuiltThis.com!