You may have noticed a new feature on each product page — social bookmarking icons like Twitter, Facebook, and more are available so you can share with the world your excitement over a product.  There is also a small envelope icon that will notify your friends, too!
So let's have fun with this, shall we?  From now until August 31st, you have a chance to win a Mini Kimmy Bundle Package by sharing links to your FAVORITE e-books on the site!  It's very simple to do!
Find your favorite product pages on www.YouCanMakethis.com.
Locate the social bookmarking icons (as shown below) and choose ANY of those ways to share the link with others.  Remember, you can Twitter, Facebook, Email a Friend, and more.
Each time you share a link through one of those avenues, let us know right here on our blog. No need to keep posting — simply let us know how many links you shared in one or several blog comments. We'll make sure to count all of them for the drawing!
10 people will win the new Mini Kimmy Doll pattern for the SEWING machine, the Mini Kimmy Quilt Pattern, and a YCMT download of their choice!
Here's a sample page of what the social bookmarking icons will look like: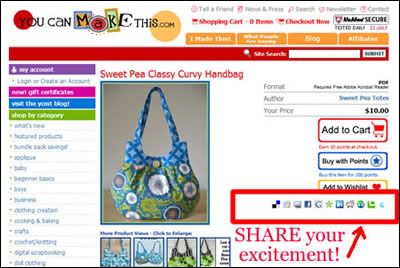 So give it a try! Here's what you can win!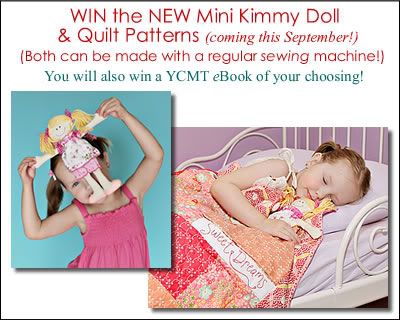 Have fun!