So I have this group of friends who love to SEW! (Imagine that!)
  And more specifically, they love to quilt.  Once a month we get together and sew, sew, sew.  This past weekend we were lucky enough to get away for a couple of days to one of my friend's cabins. Imagine 9 women — all different ages and stages in life — having no distractions and just being able to sew (and eat!) with friends. 
I packed up my bags and was ready to go. When my husband helped me carry my suitcase and a small over-the-shoulder bag out to the car, he said "Whoa! You're only going to be gone for 2 days. Why so many clothes in this suitcase??"
Ummmm…..truth be told here. Can you guess?
Yep, you guessed it.  The suitcase was for my FABRIC.  The little over-the-shoulder bag kept my clothes.  Ahhh…life is good.
  Here's another picture of one of the loaded vans. See the 3 sewing machines all lined up? There were 6 more of those in the other cars.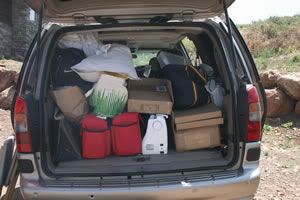 Oh, and for the record…I have 3.5 more quilt tops done!  Gotta love carving away time to "focus!"  Now, if I could just figure out how to do that more often!