As you may remember, YouCanMakeThis.com had the opportunity to be part of the recent "Moms Who Make It" conference held in Salt Lake City.  It was a day filled with fun workshops, food, meeting new people, and learning much about business and motherhood.  We all need a day like that, don't you think?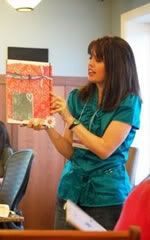 So here are a few photos from the event.  Kris from SWAKembroidery  held a workshop on creative gifts and home decor for the holidays — and all on a budget!  She shared items that you can download for free from our blogs and websites, along with creative home decor projects.  I think many came away from that workshop feeling like they wanted to get started on their new projects right away!  Gotta love that!
I was a keynote speaker and asked to speak on the topic: "Using Creativity to Build the Life You Want."  I really enjoyed the chance it gave me to look back at what I have learned over the last 3 years and talk a bit about how "YCMT" and its sister sites, YouCanQuiltThis and SWAKembroidery even came to be.  I hope that the simple ideas shared were ones that people could immediately implement in their own individual situations in life – whether it be in their own businesses, as a mom (or in general – as women!), and in setting and achieving our goals.  Here are a few photos from that, including a few of the slides on the screens behind me: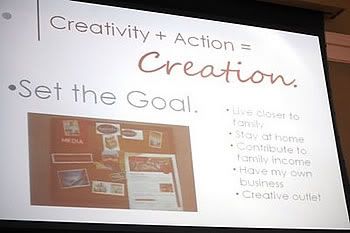 We were also able to set up a display table to showcase some of the projects that can be made by using the downloads on our sites.  Two of our wonderful friends and employees – Sherrie and Shelli – took the time to make a beautiful table display. Here are a few photos: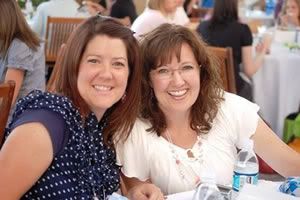 I loved going to all of the other workshops and learning. It was also wonderful to meet so many people that I have come to know online. If you ever have an opportunity to go to something like this, do whatever you can to make it there. Learning new things and meeting new people sure makes life fun.