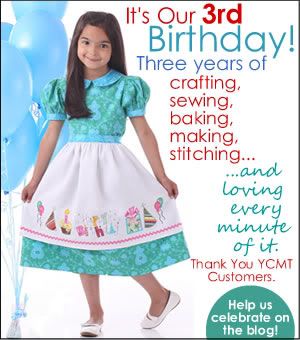 Wow. Where has the time gone? July 5, 2009 marked the "3rd birthday" of www.YouCanMakeThis.com. 
It has been a wonderful 3 years and we look forward to many more. "YCMT" has become more than just a place to download how-to's and patterns — it has been the catalyst for hundreds of women authors to share their expertise, a place for hundreds more to create beautiful things for their homes, families,and often times, their businesses, and above all, a place that empowers people with the words "You CAN".  Oh, I love my job.
A few months ago, a photo came into the "I Made This" section of the site. The outfit created for a little girl was stunning.  When I read that this mom had only been sewing for 2 months, I was thrilled. Because I've always believed that no matter someone's experiece (or lack of), that people really can make these things. (I better believe that, right?!) 
 I immediately sent an email to "Stephanie" asking her to share with me a little more about her experience.  With her permission, here's a few of her thoughts: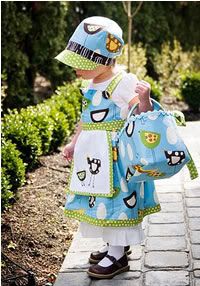 "I'd love to share with you more about my experience.  I've always been a crafty kind of a person. Name a craft, and chances are not only can I teach you how to do it, but I can loan you all the tools you need as well. The only thing that I wanted to do but had yet to master was sewing. I had tried sewing several times before, but always got frustrated. I knew how to use my machine and could sew a (mostly) straight line, but it seemed like patterns were written for people who spoke another language. I would open even the simplest of patterns and get partway through reading the instructions and just give up! For nearly eight years my sewing machine sat in a dusty corner of my craft room. I would occasionally get it out, only to get frustrated with myself and put it right back. Why couldn't I "get" sewing?
When I saw your site, I thought I would give sewing just one more try. I bought a pattern, and was surprised how extremely easy it was to follow and understand. It was like having your best friend sitting next to you, explaining what "cutting on the fold" meant, and showing you how to topstitch. I made my very first piece of clothing ever, and I was hooked! I was in shock that after so many years of frustration that it could be so easy. I made two more tops in the next couple of days, and then (nervously) decided to try something else. I was sure that I would end up frustrated again and only be able to make tops :) I was pleasantly surprised to find that each of the patterns I downloaded were as well thought out and as easy to follow as the first one. I ended up making an entire Disney wardrobe for my daughter with the patterns I'd downloaded, and I could not have been happier with myself! LOL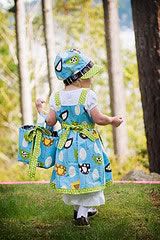 I can't tell you what joy it has brought me to finally be able to sew! I am amazed with myself each time I finish a project. I love that people ask me where my daughter's outfits are from, and it's such a great feeling to be able to say I made it.  When people reply, "Wow, what a great seamstress you are! I could never make that", inside I just laugh because I know the truth about my sewing skills! Then I tell them my secret weapon is this awesome little website called youcanmakethis.com.
It's thanks to you guys that my husband is now rolling his eyes about my growing fabric stash…
I really think your site is awesome and I visit every day to see what is new. I look at the "I made this" section for inspiration and wish that there was a place to share my excitement over new patterns, etc.
I look forward to seeing what else you guys come up with! Thanks for emailing me, Kim."
-Stephanie C.
Duvall, Washington


Leave a comment, birthday wish, or a little about your experience and you could win!
THREE people will win a $30 Gift Certificate to www.YouCanMakeThis.com
THREE people will win a SURPRISE BUNDLE of eBooks.
ONE person will win a $100 Gift Certificate to www.YouCanMakeThis.com.
A very sincere thank you for being such a wonderful support to our family of sites. Thank you.
www.YouCanMakeThis.com
www.SWAKembroidery.com
www.YouCanQuiltThis.com
P.S. Love the turquoise birthday dress pictured in the photo above?  It was created using "The Precious Dress" for sizes 3 months – 10 years! You can fnd this e-pattern by Carla C  here.
The machine embroidery designs stitched onto the apron are by JesseKate Designs found at www.SWAKembroidery.com.