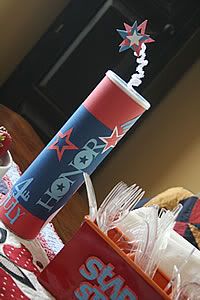 So what do all of these have in common? Well, not a whole lot except that it made for a very fun project for the 4th of July! 
Going back again to my "school teacher days", I used to save every Pringles can, baby food jar, or soup can I could get my hands on. (Well…maybe not EVERY one, but I sure had quite a collection!)  Why? Because I knew there was always something that could be made into a fun craft project with my students.  To this day, I can't throw away or recycle something quite yet until I've given it some of my mental energy.  (Yes, it's exhausting.) Don't ask me about the plastic cake lid I still have from 6 months ago….THAT crafty project is still in the works!
As you know from my earlier post, ProvoCraft and Today's Mama gave me the opportunity to review not only the Cricut Expression, but also 4 of their new cartridges coming out.  You can find out what I did with vinyl on my niece's bedroom walls here.  But I also wanted to try out their new "Stand & Salute" cartridge that is filled with patriotic sayings and designs.  I knew just what I wanted to do with it.  It's an easy project that the kids would love to be involved with, too.
All you need is an empty chip canister (rinsed and dried), cardstock or scrapbook paper, pipe-cleaner, glue stick, and some freshly-baked homemade chocolate chip cookies (or ahem…store-bought cookies.  Hey, I wanted to craft — not cook!)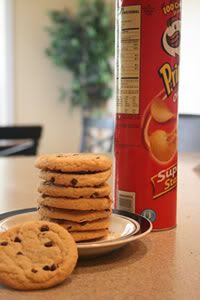 To cover the top of the lid, I simply measured the diameter and knew that it was 3 inches. So I set the Cricut machine to cut a 2 3/4″ circle with a star cut-out from it. It was as easy as a couple of pushes of the buttons.
Before I knew it, I was cutting all kinds of cool shapes and letters.  I wasn't sure exactly what I was going to do with them yet, but I kept a-cutting…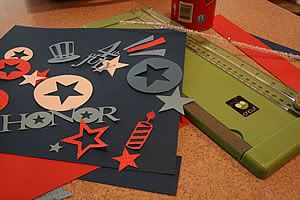 *If you do not have a Cricut machine, stickers and children's artwork work really great for this project, too!*
Now that I had that 2 3/4″ circle/star cut, I simply glued it to the lid of the can. Then I used one of the Cricut tools and poked a small hole in the top where I could insert the pipe-cleaner.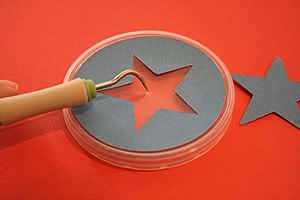 A few wraps around a pencil and you have a cutesy-curly top of your firework!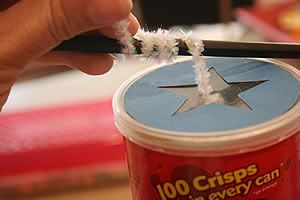 The rest of the project was really fun because there was no rhyme-or-reason to what I did. I just kept adding the cute di-cuts to the cardstock-wrapped can and wa-lah…it was done in less than 10 minutes.  This will be set out on the table just in time for the family BBQ.  Here are a few more up-close shots of the final project, including some lettering I added to the old utensil holder I've had for years.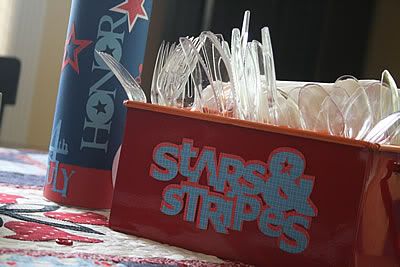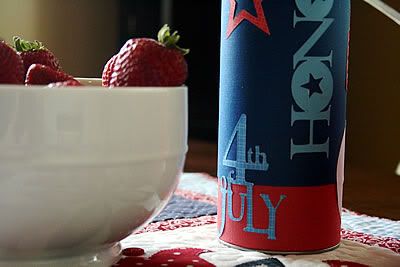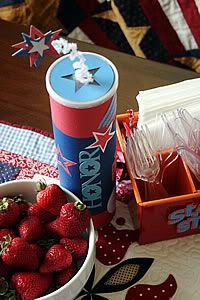 OH! And one more thing…Don't forget the special secret ingredient…the chocolate-chip cookies that will fit perfectly stacked inside of the firecracker!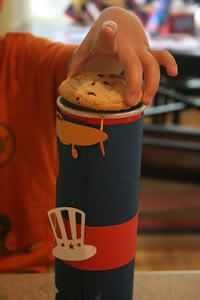 By the way, you can win a Craft Cruise on the Carribean from Provo Craft! You can also win the 4 new cartridges at Todays Mama.  All the details on that are found in my first Cricut blog post.  Have fun!