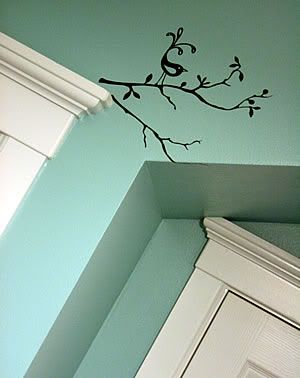 When I was a 4th grade teacher, one of my favorite "tools" in the teacher workroom was the always-being-used-and-never-available "di-cut" machine.  We teachers love that machine! No more tracing and cutting letters, numbers, or worse…the tangrams!  We could put together cute stuff in a jiffy and make learning materials, too.  Needless to say, when I stopped teaching, I REALLY missed that di-cut machine!
Well, ProvoCraft has created a tool that is right up my alley — the Cricut-Expression!  My guess is that you have heard of it or if
you're like me, have drooled over their infomercials seeing all the scrapbook pages, cards, gift-boxes, home decor, you name it…that you can make with this cool tool.
I was very fortunate to receive one of these machines to review from ProvoCraft and Todays Mama.  It immediately cured the "Mom! I'm booooorrrrreeeeedddd!" syndrome already starting to take place in my home. (…and school had only been out for 3 weeks! Sigh….)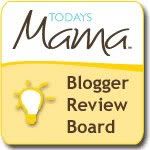 But I quickly found out that this machine is much more.  I watched the video tutorial that came with it and couldn't wait to try the possibilities.  Probably the one feature  (ok, two features) that made me the most giddy was the fact I could cut vinyl for home decor, and I've even read that it can cut fabric (oh.my.happiness.)  I have yet to try the fabric, but I got right to work on some vinyl. It is a very user-friendly machine, so it was easy to get started.
I pulled out one of Cricut's new cartridges – home decor - and was so excited to see the silhouettes of birds, branches, flowers, and more.  Do you remember when I was making Christmas gifts for my tween niece's bedroom last year? Well, she just got it painted and amongst the posters of The Jonas Brothers, she also wanted to keep a simple and sophisticated look of birds, branches, and flowers. Ummm…perfect! Super Aunt to the rescue.
A tween has got to have her photo wall, right? So her mom and I hung an old frame without the glass and adhered some photos directly on the wall.  We added an extra touch by including the word "love" (found on the cartridge).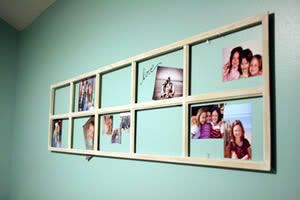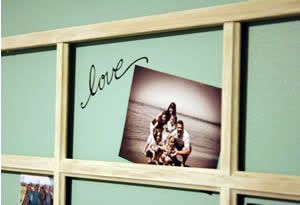 Here's another by her purse hooks.
And before I left that night, I made sure to leave a special message on her mirror.  Of course, "speaking her language…"
That message was cut with the Jubilee Cartridge.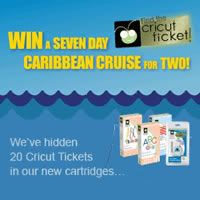 I have more projects to share, so check back. There's a new "Stand and Salute" and "Simply Sweet" that is debuting, too.  In fact, there are 2 great contests going on for Cricut users.  The first is sponsored by ProvoCraft. Anyone NEED a cruise?  OK, what if I said it was a CRAFT Cruise for 7 days in the Caribbean?  Ahhh…. sounds pretty sweet to me.  There are 20 golden tickets (chocolate, anyone?) hidden amongst the new 4 cartridges I mentioned.  If you find one of those tickets, well….you'll be cruisin', craftin', and Caribbean'in' (yep, that's a word in my vocabulary!) with a friend.  Click here for those details.
And if you have a Cricut and would like to win those 4 cartridges, Todays Mama is giving a set away. Sweet.  Details are found here.
Keep checking the blog as I'll be posting some fun craft projects you can do with your kids this Summer!