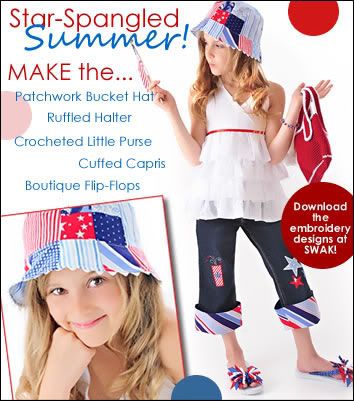 I LOVE collaborations.  The idea of "two heads are better than one."  The idea that when you put together a variety of pattern-makers, fabrics, and techniques, something stunning is the result.  That's what we often like to do on the home page of YCMT, SWAK, and YCQT. 
And that's what we just did to celebrate a summer outfit — sewing, machine embroidery, embellishing, and crochet — all added up to a collaboration for the 4th! (or ANY day of the Summer!)
If you have an embroidery machine, you can find all kinds of 4th of July downloads at our sister site, www.SWAKembroidery.com.
Here's a closer look at each piece of this collaboration.  And if you've never sewn before, no worries! That's why we take you through EVERY step of creating something — with photos to help along the way. Even the beginner can make these things!
First off — the Reversible Patchwork Bucket Hat! This pattern is for a wide range of head sizes so even babies to teens can wear this hat!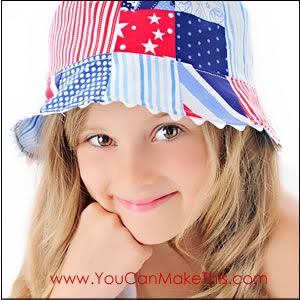 Do you love to crochet? Check out this adorable crocheted purse!  I thought this would be cute to gather all that parade candy, too!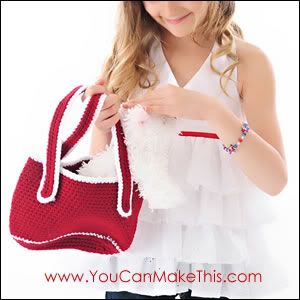 And how cute is the ruffled halter?  I love it in one main color — the white eyelet fabric is so sweet!  If you're keeping with a 4th of July theme, this would also look super-cute with a different fabric for each  ruffled layer — maybe red and white stripes, and a blue bodice? Hmmm….cute!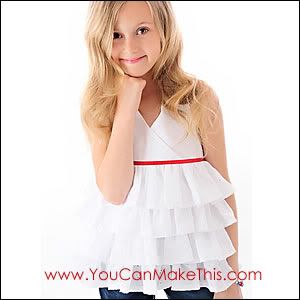 Do you have a pair of jeans that your child has outgrown? Don't throw those out!  Add "cuffs"  and make them adorable capris.  Learn how to make cuffed capris at YCMT!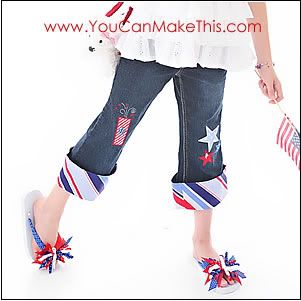 Don't forget those cute appliques at SWAKembroidery! The firecracker and 3 stars are by JesseKate Designs.  If you do not have an embroidery machine, try applique with your regular home sewing machine.  You can find tons of applique patterns here.
And oh….those flip-flops!!! Those just finish off the outfit so cute, don't they?  Not only do I love the techniques shown in this book, but the author also shares with you her experience and expertise at selling those finished flip-flops so that you can do that, too!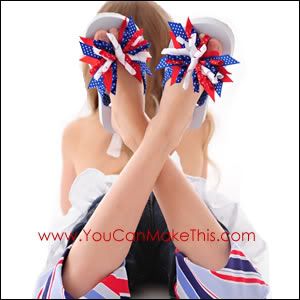 Have fun trying something new!! I have a feeling you're going to love it!