We have a winner of the Janome Marie Osmond Quilter's Companion!  Vickie Aver…. (partial email: vickie_na….)  Congratulations Vickie!  We want to thank the Janome company for this incredible giveaway and encourage you to check out their website and line of sewing, quilting, and embroidery machines!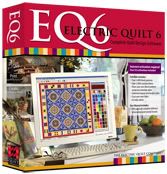 We're also excited to share a new giveaway sponsored by our friends at Electric Quilt!  They have offered a copy of Electric Quilt 6 quilt design software to one of our lucky customers!  If you've dreamed of designing your own quilts, you'll love this program!
Here's how you can win!
1.  Each time you do one of these things make a comment here on our blog to let us know about it and you will get an entry into the drawing:
 - Send in an "I Made This" photo of a YCQT quilt pattern you've completed.
 - Twitter this contest, referencing @youcanquiltthis with a link to our site (http://www.YouCanQuiltThis.com).
 - Make a blog post to your blog about You Can Quilt This
 - Make a blog post to your blog about why downloadable quilt patterns work for you
2.  Do these things between today, Wednesday, April 29, 2009, and Friday, May 15, 2009.  We'll draw a name and make an announcement at the end of May. 
That's it!  Easy, right?   No purchase is required.