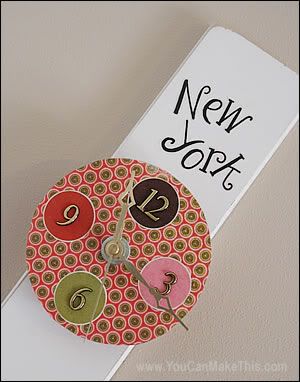 You may remember this project from our "Thrifty Fifty" challenge last November.  I was trying to think of what I could make my "tween" niece for Christmas.  Since a tween's bedroom is her castle, I figured something to decorate it would be fun.  Plus, I had to stay under a budget of $50 (for ALL of my gifts combined!) so I really had to put my thinking cap on!
The instructions were posted throughout our former blog, but we thought it would be good to have them here again — all in one place — and at our new blog's home! 
You can also see the finished project featured on television from last December.
======================================
This is a fun decorating idea that will cost very little and will help re-use things you already have at home!
Does anyone out there have  old, scratched CD's that can no longer be used? If you're like me, you may have a drawer full of them!  Don't throw those out…make them into CD clocks!
This would look great in a number of places, including a TWEEN'S bedroom. This project actually started out with an idea to make one clock.  They were so fast and fun to make that it ended up being a 3-clock project showing a few different time zones (and places THIS tween might rather be in!)
Let's get started!
Step 1: Gather your supplies. You'll need:  scrapbook paper, Mod Podge, sponge brush, CD, metal washer, and clock kit. If you'd like to mount the clock onto a board, you'll also need scrap wood in any size.  The "lettering" on the board came from scrapbook supply stickers.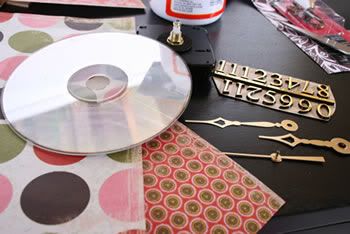 Step 2: Trace the CD onto scrapbook paper.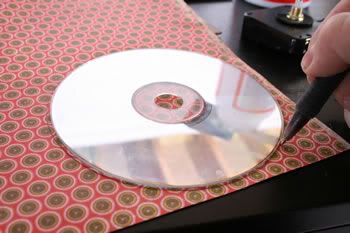 Step 3: Cut paper along traced lines and apply "Mod Podge" onto the back with a sponge brush.
Step 4: Place the paper onto the CD and smooth out any bubbles. If the paper overlaps the CD a little, that is ok.  Simply take a piece of sand paper and smooth out the edges.  If you'd like to add more layers of paper, now is the time to do that.
Step 5: Gently brush another layer of "Mod Podge" over the papers to seal them and make a nice finish. Smooth out any bubbles at this time, as well.  The glue will dry clear.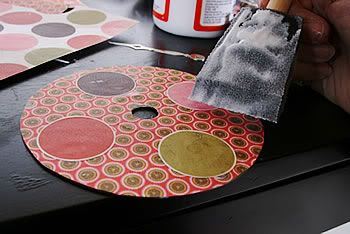 Step 6: Allow the glue to dry. Here's an extra tip for assembling the clock together!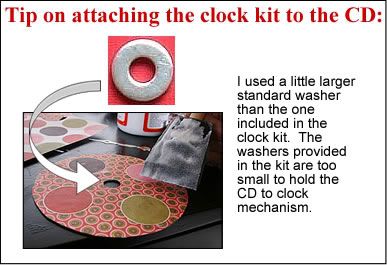 Attaching the clock to the board or a wall is very simple.  There is a groove at the back of your clock kit. All you need to do is hang that on a nail. So there are 3 nails in the board and the clock kits rests right on them.
And here's the final result! Think about the fun you could have in making these with your children, too! The third clock in the photo shows actual buttons being used instead of numbers on a clock. There are so many fun possibilities!
 Others have commented that they'd like to make them with photos of the grandchildren and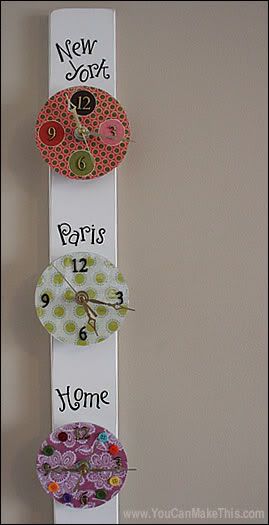 match the "time" shown on the clock with the place the grandchild lives in.  What about favorite sports teams? If those teams are all in different time zones,  a child's room would look great showcasing those times!  Have fun!