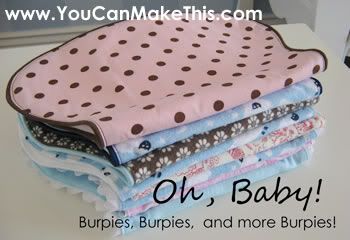 This month, we're excited to bring to you a coordinating burpie to match your blanket. We think you're going to love it!
When my babies were born, my favorite burpies were the three fold cloth diapers that you could purchase at any department store.I loved their softness, as well as the size, and absorbency. I had stacks and stacks of them! While they were functional in their purpose, they were, of course, not fashionable in the least! I did have two or three darling burpies that a sweet friend had given me made of flannel and with beautifully crocheted edges–something I didn't know how to duplicate. I longed for a combination of those great diapers and the cute fabric!
With this month's burpie pattern, we are giving you the best of both worlds, where function meets fashion, and it's simple and quick to create! With one pattern, you can create several different looks, and we even directions for you to include a binkie holder along with your burpie. We hope you enjoy this month's project!
Download your free baby burpie project here.

============================================
Do you love learning new things about sewing? This burpie project was created for the "You Can SEW This!" Newsletter.  Find helpful tips, ideas, reviews, and free projects by signing up for this free newsletter here.