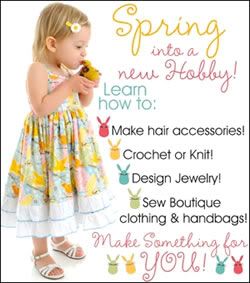 I have always loved the saying, "Life is good."  It's a simple phrase really.  And despite the ups, downs,and turn-arounds in life, I think there can always be something that makes life more fun, interesting, and enjoyable.  Hobbies can be that creative outlet that puts a little fun in my day. (Well, that and a bowl of caramel cashew ice cream…)
If I was asked what kind of hobbies were my favorite, I'd have a hard time answering.  I'd ask the person if they had a couple of hours to spare because there are too many to list.  It's not to say I'm actually *great* at all of those, but they are things I like to do.  Sewing, scrapbooking, quilting, drawing, cooking (a-hem….nevermind on that one)…they are all things that make me want to learn more.  And if I'm having an especially stressful day, I know that I can relax by simply taking out a pencil and sketch paper or thumbing through fat-quarters.
So tell me…what would you consider to be your hobbies? What do you love to do? If there was a hobby you'd like to try, what would it be?  I really want to get more into gardening.  Actually, I'd really like some great tomatoes this year — and maybe not kill my zuchinni. Yes, I know what you're thinking! How do you kill zuchinni?!?  It CAN happen, my friends — trust me.
  Not this year — it's going to be my new hobby.
Side note: Did you see that cute dress in the photo above? A-DOR-A-BLE. Love it.  It was made by a pretty cool mom — Annie from PrettyBabyBoutique. She'll show you how to make it in her new eBook found here. Thanks Annie!