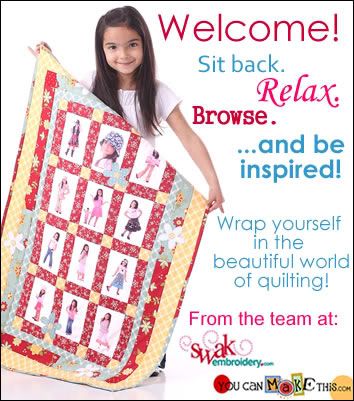 I'm so excited to finally announce the opening of our new sister-site…www.YouCanQuiltThis.com! It is "live" and ready for you to come and visit!
Lorie, the site manager of YCQT, will fill you in on all the details in her first newsletter, but for now we just want you to come and see what it has to offer.
You'll notice our first home page feature — one of our sweetheart models who has done A LOT of modeling for both www.YouCanMakeThis.com and www.SWAKembroidery.com.  I thought it would be fitting to create a special quilt that showcases her and our "family" of sites.  You'll probably recognize each of the outfits she is wearing in that photo quilt! 
Photo quilts, or memory quilts, are a fun way to capture special moments in time.  Our new tagline at YCQT says it all: "Where a Quilt is Worth a Thousand Memories."  Isn't that true?  Whether it is with photos on a quilt, the fabrics used in a quilt,  time spent in making that quilt, or even the memory of giving that quilt to someone special, there are wonderful memories. Oh, I love this hobby.
So come and enjoy the new site! If you are new to quilting, please check out
Quilting 101. You'll find tutorials on all kinds of things, including how to "read" a quilt pattern, binding your quilt, applique, basic blocks, and more.  Lorie will continually be adding to that section so check back often. We want you to feel successful at this. You CAN make this…or should I say, "quilt this!"
Like YCMT and SWAK, you'll want to create a USER account.  By logging into your user account each time you visit, you'll receive points for your purchases AND your products will automatically be placed in your very own "library."
We hope you enjoy the new site.  I can't say enough great things about Lorie who really helped to make this all possible, as well as the new authors/designers we have on board over at YCQT!  And wait till you see the giveaways we have lined up for the coming month! This is going to be fun!!  If you haven't signed up for our Janome Marie Osmond Quilter's Companion Sewing Machine Giveaway, you have 5 more days!
Have a great day!!
Kim