I do!  It's fun seeing  just a little glimpse of a project that is in the process of being worked on. Actually, this one is done but will make its "appearance" with the launch of www.YouCanQuiltThis.com.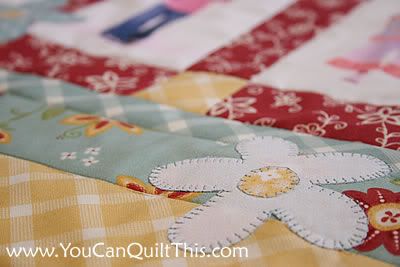 I am so excited to share this new site with you.  If you are on our "sewing" newsletter list, then you most definitely know Lorie Fuller, our editor of the "You Can Sew This!" newsletter.  I guess I should say "former" editor because now she is going to be the manager of our new site, www.YouCanQuiltThis.com.  She brings a wealth of experience to this new position and I know she has a lot in store for you!  In fact, in addition to our Janome Sewing Machine Giveaway, she has another big list of surprises we'll be giving away during our grand opening. You are going to love it!!
Sign up for our free, "You Can QUILT This!" newsletter and receive free quilting projects, tips, tutorials, and giveaway details.  As with all of our free newsletters, we never share or sell your personal information.  It is a double opt-in, so you must click on a follow-up email link that you'll receive in your inbox within minutes of signing up.
Quilts hold special memories. Whether you make them as gifts for others, or keep them within your own home, it is a treasure that will never be forgotten.  Reading your posts has reminded me over and over again, how special quilting is and can be.  It's not too late to post what it means to you. You can do so at this link and be entered into our drawing for the sewing machine.