While it may seem like a no-brainer to go to the craft store and purchase a pair of sewing scissors, there really is a lot more to choosing scissors than meets the eye.
I have to admit that I have typically gone for the cheapest pair of scissors I could find, and then always, (and I do mean always) regretted it soon after when my $6.00 cheapies got dull and useless in less than a week.
The interesting thing I've learned is that there really is a scissor for everything related to sewing!  Small, medium, large, pointed, rounded, there is a wide variety which all has a use to make your sewing life easier.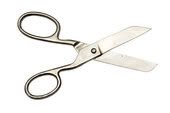 • Shears: Shears are made for fabric cutting, and are especially good for thicker or multiple layers of fabric. When I think of shears, I fondly recall holding my Grandmother's huge silver dressmaker's shears as a child, pondering what I could try them on that she wouldn't notice until  after I went home, or see if they really were heavy enough to knock my sister out with.  Shears have blades 6"-7" long and have odd shaped handles, one for the thumb, the other for more fingers, and are preferred for cutting fabrics.
• Small scissors: Smaller scissors come in handy for a variety of things, and are useful in the 3-5" blade length range for smaller snipping jobs.  Buttonhole scissors help create clean, uniform buttonhole slits, while short clipper scissors make trimming threads, ripping seams and making small precision cuts easier and more efficient.
• Pinking or scalloping shears: These are the fun scissors!  Kind of like the patterned scrapbooking scissors, but for fabric!  Pinking shears leave a ravel-resistant edge to fabrics in a zigzag or scalloped pattern. This helps prevent fraying of cut edges and can be a permanent, decorative edge for fabrics that don't need to be hemmed, like felt.
• Serrated Shears: Did you know there are scissors made just for cutting slippery fabrics, like silk?  If so, you're far ahead of me! If you've struggled with cutting sneaky or slinky fabrics, you'll want to give these shears a try. The blades have a finely ground serrated edge which cleanly holds fabric in place while you cut.
Additionally, a few tips to complete our scissors 411: 
For cutting patterns on fabric, try and choose a shears or scissor with a slightly curved handle. Straight handle scissors can force the scissors to lift up as you cut and cause inaccurate cutting or lifting of the fabric.  And, if using your scissors to cut paper or patterns, (yes, it IS okay to cut paper with your fabric scissors!) be sure to clean the blades frequently to remove paper lint and residue buildup-especially before using the scissors on fabrics again. Sharpen often and keep your scissors safe from harm (or from the hands of your children, who may harm others), and you'll happily not have to run to the craft store for scissors on a weekly basis ever again!