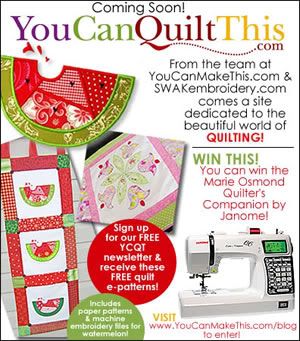 This is an exciting week for me because I get to reveal a NEW website set to launch this April! To celebrate, you could WIN a
Marie Osmond Quilter's Companion sewing machine from our friends at Janome! Isn't that exciting? 
You may have guessed it by now – This April we will launch www.YouCanQuiltThis.com!  We can't wait to share with you the projects, tutorials, and patterns brought together by a team of experts and lead designers in the industry.
Plain and simple – I LOVE to quilt. When I was 14 I decided to put  together 9×9 inch blocks and made my first "quilt". (cough, cough…so it wasn't the most perfect quilt, but I LOVED it!)  Soon I was making a quilt for every brother and sister of mine because it was something I loved doing. (Oh, if I could go back and look at those quilts now!) 
Shortly after I got married, I found a group of friends that also loved to quilt. Soon we were making quilt wall-hangings for every season of the year. I loved every minute. It was a time to chat with good friends and learn new skills.
Today I look back at quilts that grandparents have made for my children and I cherish every one. 
Quilting is a passion for me –it's a process — and a journey that I enjoy. Years from now I will look back at the quilts I've made with certain fabrics, old baby clothing, or other materials that make me smile, and I will be grateful I learned something new and found a creative outlet.
There are MANY ways you can enter to win this machine. Complete any or all of these things and you'll have that many more chances to win! Each time you complete one of these items, post a comment to our blog because each blog comment = one entry for you!
Sign up for our new "You Can QUILT This!" Newsletter.  It is FREE! Plus, you're going to receive a free bundle of products just for signing up!

 

Tell us why you love quilting or what quilts mean to you. Even if you have never quilted before, tell us something about your experience with a quilt(s) in your life.

 

Blog about this contest and the new site.  Feel free to take this graphic and share it with your friends. Let them know how they could win the machine, and link back to this contest on our blog. Facebook, Twitter, and other Social Media sites are also great places to share and will each count as an entry.

 

 "Add our blog button" to your blog or website. (Code below.)


Please see FAQ's for a complete list of our Contest and Giveaway Rules. This contest is open only to U.S. residents, over the age of 18 and is void where prohibited by law.
The Marie Osmond 200 Quilter's Companion is the perfect machine for all kinds of sewing, but incorporates special features aimed to make quilting easier. Its innovative design includes an automatic straight stitch needle plate, so you can move from a regular needle plate to one specially designed for quilt piecing at the touch of a button. You'll also find 201 handy stitch designs and automatic tension. You can even edit and save your stitch combinations to five on board memory banks for easy recall and use in later projects.  Click here to see more photos and learn more about Janome's Marie Osmond Quilter's Companion!