Can you believe it?! You are SO CLOSE to finishing your "Making-It-Up-As-I-Go-Along" Quilt!!  Tonight I will show you PART 1 to finishing off your quilt.  While there are many ways to do this, I want to show you a favorite method I use.  Plus, I was able to use up more of my fabric scraps, so that alone was a plus! 
Step 1:  Prepare your quilt for the binding by trimming away the excess batting and back layer.  Some people choose to do this later, and that is ok.  I like to do it beforehand.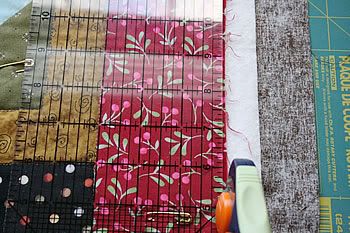 Step 2:  Grab those fabric scraps and cut them 3 inches wide by any length you would like.  We are going to sew these strips together to make one, long continuous binding strip.  The end length of your strip needs to be approximately 10 or so inches longer than the outside perimeter of your quilt. (*Note: I am using a 3″ wide strip, but you can use even a 1.75″ wide and up depending on the look you want in the end.)
Step 3:  To sew strips together, place the right side of one strip, perpendicular to the right side of another strip.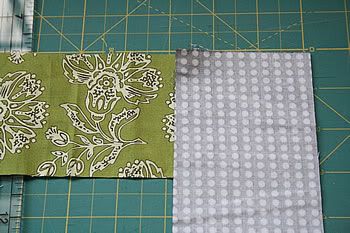 Step 4:  Sew across the strip at a 45 degree angle.

Step 5:  Trim the excess fabric.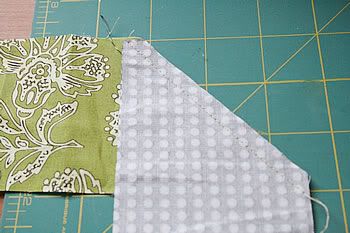 Step 6:  Press seam open.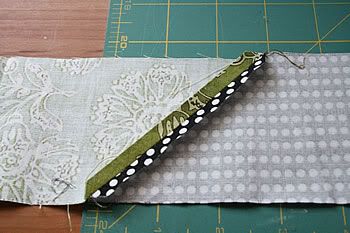 Step 7:  Continue adding length to this strip until you reach approximately 10 inches beyond the perimeter measurement of your quilt.
Step 8:  Fold the strip in half, with wrong sides together.  Press with hot iron.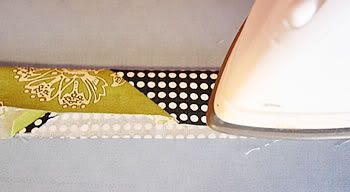 OK, you're done with making your binding strip! I told you we'd take this in baby steps, so we'll do that till the end.  But the end of this quilt will come sooner than you think, so go make those strips and come back to the blog because we'll finish this quilt off by the weekend!
Have fun!
-Kim