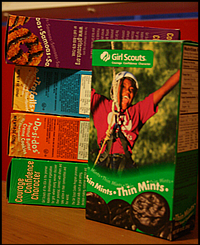 You say the word, "Thin Mints" and I can't help but go right back to the age of 7.
When my neighbor, sweet little "Grace", came knocking on my door, I couldn't help but want to order all of them!
  Sure, Girl Scout Cookies are good and all, but buying more than what this body needs made me think right back to my own childhood of being a "Brownie" myself.  Ahh…the memories of the brown outfit, knee-high socks and cap, activities, and yes, Girl Scout cookie time. 
Is it the nostalgia, or are they really that good?  I think a little of both. 
What kinds of things bring you right back to your childhood?  And do you have a favorite GS cookie? Thin Mints still has my vote.
I hope everyone had a nice weekend!
-Kim