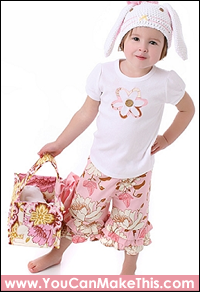 Today was a gorgeous day. I started to see the beginning of our tulips coming up and I am crossing my fingers that the snow isn't coming back any time soon. 
I thought it would be fun to share with you some ideas of outfits you could make. Never touched a sewing machine before? No problem! Seriously.  I could share hundreds of successful "I can't believe I actually MADE that!" stories with you. 
The first is a cute Spring set collaboration created by 4 of the authors at www.YouCanMakeThis.com.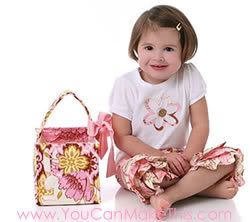 And isn't our little model so sweet? Oh, she's a cutie.
So that's today's little bit of Spring inspiration. Now I'm off to rake those flower beds!
-Kim