Do you just love Valentine's Day as much as I do? I'm getting ready to celebrate it with my family all this week! Who says all the fun has to be reserved for just one day?
So I wanted to show you what I think is an adorable way to add a festive touch to your dinner table. With a few ready-made treats to pick up from the store, this centerpiece can be made in no time at all! It's so yummy-looking, the worst part will be keeping your kiddos away from wanting to eat it. (Ex. The final pictures show the 2nd "cherry" on top…the first one was suspiciously missing with a 2-year-old's face telling the entire story.)
But first, I bet you want to see what you're making!
Here are a few pictures: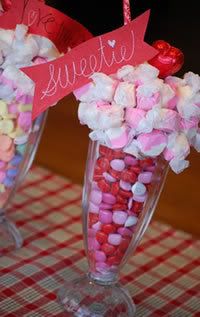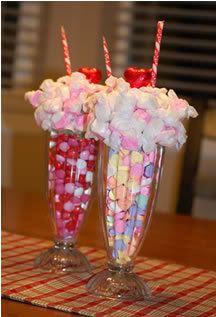 Ready to learn? It's so easy! Here are the materials you will need to make 1 centerpiece:
 -a clear, ice cream sundae glass (I picked mine up at our local Dollar Tree store!)
-candy to fill the bottom of the glass (I chose conversation hearts for one, and pink and red M&Ms for the other!)
-a styrofoam circle or half-circle (found in the floral or craft section of places like Walmart)
-pink and white taffy
-2 candy pixie sticks (for the straws)
-chocolate, red-foiled heart
-hot glue gun
-paper to embroider or to write on if you choose to do labels
1. Measure the circumference of your styrofoam simply by placing it at the top opening of the sundae dish. If it is too big, just cut off any excess pieces so that it can fit firmly at the top opening of your dish. Set that piece aside.
2. Fill sundae dish with the candy of your choice.
3. Now place that rounded top snug and firm into the opening of the sundae dish.
4. Press pixie sticks into the foam at the top. If you're having trouble getting them in, you can cut a small slit with a knife and add a little hot glue. Mine went easily in and there was no need to do anything further with this step. Point them in opposite directions at an angle. Cute straws!
5. Carefully glue each piece of taffy onto the foam until the entire top and sides are covered. Squeeze in as many as you can so your top is very full and rounded!
6. Place that chocolate heart cherry at the top, securing it with a little hot glue. Perfect!
You're finished! Wasn't that easy? You should be proud!
BUT WAIT!! There's one more step you MIGHT want to add. It's not necessary of course, but oh so cute! (You can also just WRITE the little tags out onto paper, but if you're like me and love to machine embroider and will do so on anything you can possibly stitch, then here's a final step that will add the perfect touch!)
I took these cute little words found at SWAKembroidery and stitched them onto mulberry paper. If you've never tried stitching onto paper, you should give it a try! It's so easy to do and there is a great tutorial found in SWAK 101 on how to do this.
So here I go…stitching away…. (I'm getting giddy!)
I then cut them out into a "banner-like" shape and glued them into place on the sundaes! Here is the "SWEETIE" word found at SWAK:
And here's the "LOVE MUFFIN" design:
There are also some other groovy words to choose from! Again, if you don't want to take the time to stitch these out, or don't have a machine to do them, write them out and even personalize them! Happy Valentine's WEEK everyone!