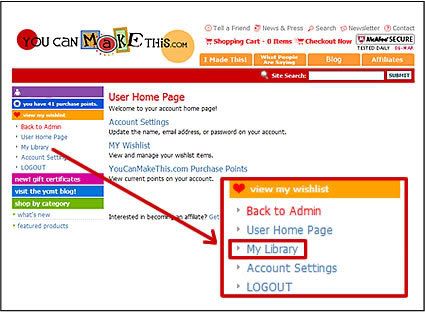 I thought it might be nice to showcase some of the cool extra features you'll find at www.YouCanMakeThis.com.
Today I'm highlighting the "My Library" section of your user account. 
I LOVE this feature. If you've ever had a computer crash, you know how upsetting it is to think that you've lost all your files. ( I speak from experience!)
Now you'll never lose a download again because when you are signed into your user account before purchase, all of your e-patterns/instructions are automatically placed in the "MY LIBRARY" section!  You will  always have access to them and they will never expire.
Also, within seconds of your purchase,  the download links are automatically sent to your email inbox.  Due to spam filters or blocks by an ISP, there are occasions when you may think the purchase never came. No worries! Simply look in the "my library" section and they will be there. (And they're probably in that spam filter, too.)

You'll also find this feature at our sister site, www.SWAKembroidery.com.
Have a nice weekend everyone!
-Kim