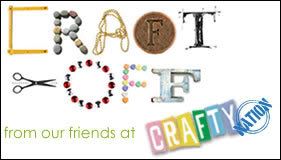 Did you know that March is National Craft Month? If you are  feeling crafty and love a challenge, you'll want to know about a "Craft Challenge" that is going on NOW at CraftyNation!
I had the chance to talk with Toni, co-founder of Crafty Nation. What a remarkable lady! I love her enthusiasm and energy she brings to the crafting world. She has created a welcoming community for those who love to craft.  Her love for everything handmade is evident in her video series and throughout the site, as well. It's a fun place to be!
From now until March 26th, Crafty Nation is hosting a Craft-Off. We know you love to create, so why not join in the fun! You can find all the details here.
Happy Crafting!
-Kim