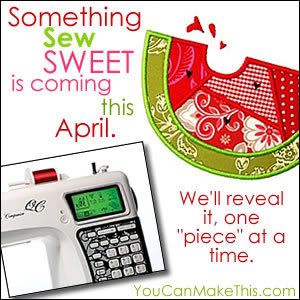 Our company has long been associated with making cute clothes for children. While that is definitely true,  there are many more things that make up what "YCMT" is today.
You have learned to make your own jewelry, handbags, aprons, wood-working projects, crocheted items, and more. And we've all learned it from the experts — women, mothers, aunts, grandmothers — who all have an expertise in an area.
There's another side of YCMT that will soon be revealed, too.
It's coming this April and let's just say there are some pretty amazing prizes that will be given away with the unveiling, too.
Stay tuned.
Do you have a blog? Feel free to take this image and share it with your readers. We'd love for everyone to be a part of the upcoming fun!
-Kim