We're almost done with our quilt! This next part will have you making a Quilt Sandwich – minus the onions and pickles…(Sorry, couldn't resist!)
I know there are  many ways to do this, but I'll show you a method that works for me. 
Materials Needed:
"Backing" Fabric (a few inches larger – on all sides – of your quilt top) You could use one main fabric or "piece" your backing together.
Batting (a few inches larger – on all sides – of your quilt top) There are many battings to choose from. I personally like a thin one called "Warm & Natural." You can buy it at most hobby/craft stores.
Safety Pins
Depending on the method you choose to "quilt" this, you may need additional materials. Details below.
Optional: T-pins, tape, or basting clamps
Step 1: Start by clearing an area on the table or floor for spreading out your quilt. Place your "backing" (the fabric you want on the back side of the quilt) face down onto the floor or carpet. If you are doing this on the table, you may want to use a little bit of tape to keep down the ends.  You can also use basting clamps made specifically for this, but I used tape. If doing this step on the carpet, use a few t-pins around the outside edge.
Step 2:  Place your batting on top of the "backing fabric." Smooth flat with your hand.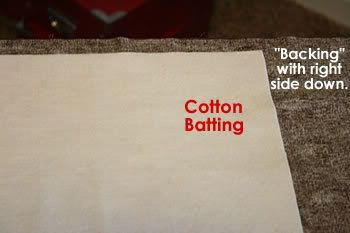 Step 3: Place the quilt top on the batting, right side up.  Smooth flat with your hand.  Use a little tape, t-pins, or basting clamps to keep everything flat and smooth on your surface.

Step 4: Starting in the center of your quilt, pin all 3 layers together with a safety pin.  Continue to pin approximately every 4 inches, working your way to the outside of the quilt.  Notice how I've pinned in the middle of a triangle instead of pinning on the seam. You'll see why in step 8.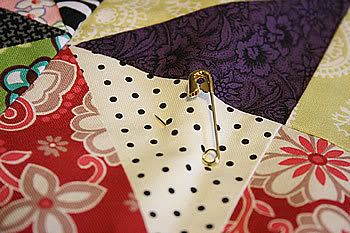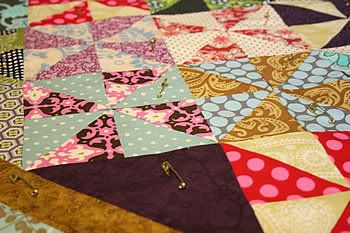 Step 5:  Choose a method for quilting. Here is where some options come in. Choices include:
Machine Quilting Yourself: This is the method I chose and will be showing. To do this yourself, you will need a Walking Foot (photo below).  Your machine may have come with a walking foot or you can buy one at your local sewing machine dealer.  Find helpful hints on machine quilting here.
Tying Your Quilt: This is the fastest and most inexpensive method. It's really a cute way to keep the 3 layers together, too. Use yarn or embroidery floss for this method. Find helpful hints on tying a quilt here.
Hand Quilting: This is a more time-consuming method, but the results are beautiful. It will give the look of an old-fashioned quilt and can be a very relaxing way to finish off a quilt.  With a needle, thread, and a series of running stitches, this look is gorgeous. Find helpful hints on hand-quilting here.
Hire Someone: You may be fortunate enough to have a longarm quilting machine. If you don't and would like a very intricate design across your quilt, then you may want to find a professional. This will be the more expensive option, but the results of having this done are stunning. The possibilities with this method are endless.
Step 6: Go for it!  Whatever method you choose, don't worry — just jump right in and try it out! You may feel better in trying these on scrap fabric first. Then move on over to that new quilt of yours…this is fun!
I'm machine quilting using a walking foot. This is good for straight lines, which is exactly what I'm going to do with this particular quilt. Here's what my walking foot looks like:
Step 7: Plan out in your mind what lines you're going to stitch along. I'm going to use a "stitch in the ditch" method and sew right along my seams.  Some people choose to sew 1/4″ in from the seam. Either way is fine. The red lines below show you where I'm going to start. Work from the middle of your quilt, out.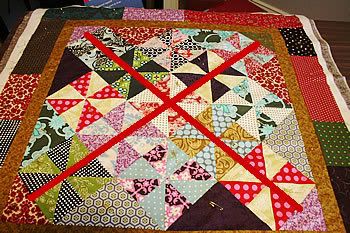 Step 8: Lengthen your stitch length to a 3.0 or 3.5. Now stitch in that ditch!
(See why I didn't use safety pins along the seam?)

Step 9:  Decide where you will stitch next. It's fun! The blue lines below show where I stitched next.  I continued this method until I stitched along every straight line (including my border seams).

Step 10: You're done quilting! Look at the back and admire your work!
Notice how I used the same color bobbin thread (brown) as my backing. While that is a tip that many use, feel free to use any color you'd like!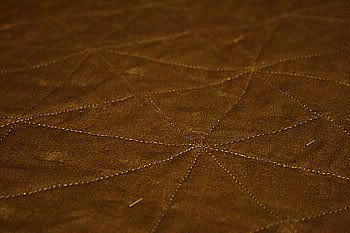 Only one more part to go — binding the quilt! Check back next week for that last part. Then we'll do a little bit of "sew-and-tell" with our quilts!
-Kim